Selected by Social media✌, ranked by our AI?, check out who is winning Delhi Lok Sabha Elections 2019
In Delhi, in all the seven seats, there is a triangular fight between
BJP, Congress and AAP.
Main Issues in 2019 elections in Delhi
Statehood of Delhi and Sealing are some of the primary issues that were being taken up. Apart from these lack of parking space, unauthorized colonies, better roads and sanitation, improved water quality and supply, drainage, employment, education, housing for all, women safety and cleanliness
are being talked about.
Delhi-NCR Constituency Wise Turnout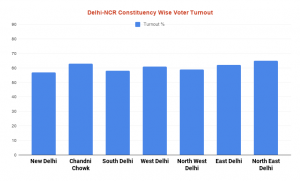 North- East Delhi recorded the highest voter turnout of 63.5%, while New Delhi witnessed the lowest turnout of 56.4%.
Social Media Share of Voice during Delhi Lok Sabha elections 2019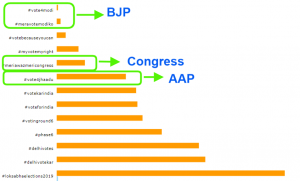 Findings:
It can be clearly seen that

#vote4jhaadu

was mostly used against

#vote4modi, #meravotemodiko and #meriawazmericongress which gives a clear indication that AAP was mostly chosen during the Delhi Lok Sabha elections 2019 against BJP and Congress combined together.
Overall Voter Turnout
This time the average voter turnout was around 60 per cent, which is less than 2014 Lok Sabha election's turnout of 65 per cent.
In 2014 Lok Sabha Polls, BJP won all seven parliamentary seats. 
Experts are saying that the reason for lesser turnout in this year elections might be the fact that the contenders did not focus on developing connections with the people of their respective constituencies. The scorching heat might be another reason.
How many Contenders? 
A total of 164 candidates contested from seven seats in the national capital – Chandni Chowk, North East Delhi, East Delhi, New Delhi, North West Delhi, West Delhi and South Delhi. Out of 164 candidates, 18 are female contestants and the rest are males.
North East Delhi Constituency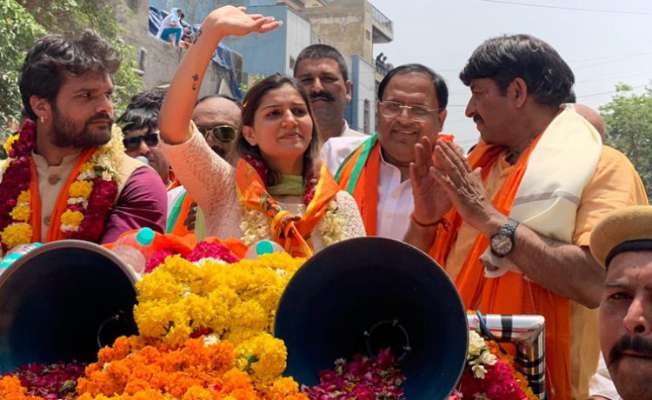 Demographic - Over 40 per cent of the population in constituencies of West, North West, North East and South Delhi are from Poorvanchal. Sitting MP Manoj Tiwari and AAP candidate Dilip Panday, both are Poorvanchalis, while Dikshit is by birth Delhiite.

Criminal Cases - The Bharatiya Janata Party (BJP) has the most number of candidates with declared criminal cases contesting the Lok Sabha polls in the national capital, followed by the Aam Aadmi Party (AAP).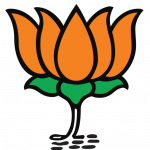 Winning
BJP(Manoj Tiwari)
Focus

Terrorism Rallies, Road Shows Manoj Tiwari on Friday said that India, which for years faced the menace of terrorism, was now giving a befitting reply to terrorists across the border by entering Pakistan.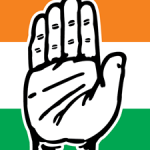 Congress(Sheila Dikshit)​
Focus

Nostalgia (Reminding people Congress performance during the previous reign). Door to door campaigns She says "The Congress is an old party. It has always fought on its own in Delhi and won (elections) more often than it lost. I chose North East Delhi as I had contested my first election in Delhi from the area in 1998." Sheila Dikshit is relying on her three terms as Delhi chief minister to help revive the party's fortunes. She said "He(Kejriwal) is fooling and misguiding people the people of Delhi. The Constitution needs to be amended by a majority in the Parliament, how will he do it"? Negative Sentiment against Sheila Dikshit for making the statement - that the Nirbhaya gangrape case was "blown out of proportion" by the media. Branding Technique - "Vikas ki Devi"(Goddess of development)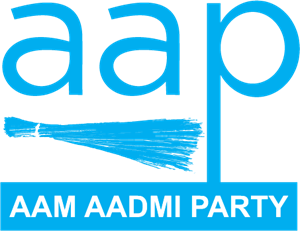 AAP(Dilip Pandey)
Focus

Better roads and sanitation, improved water quality and supply, drains that are at least covered. Employment, education, housing for all, women safety and cleanliness; all these issues have a solution only through the door of statehood. AAP is fighting for the cause as they believe it is the solution. People have seen the work done by the Delhi government in schools, hospitals, roads and sewage. They understand that if we could do so much work with 67 MLAs, then seven more MPs would do wonders.
Our Mandate
As per our analysis, sitting

MP Manoj Tiwari of BJP

has a stronghold among the people of North- East Delhi and

has a very high chance of winning

. Following Manoj Tiwari is AAP candidate Dilip Pandey, who has succeeded in getting the attention of people with "Statehood" as the solution to all the problems of Delhi

.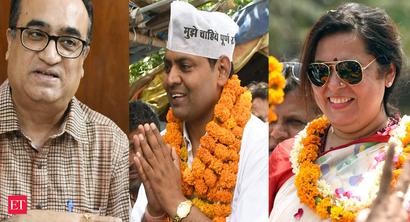 Demographics - The electorate is a mix of the elite, middle-class central govt employees and those from the lowest strata of the society. There are a lot of marketplaces in this region which were affected by the sealing drive and demolition of extended property. About 90 per cent of sealing done in Delhi is in the New Delhi constituency. This has affected a lot of traders in this area. Parking is another issue in Delhi and building multi-storey parking is another demand of the people of this constituency. These traders have also been very affected by the poor implementation of GST by BJP govt.

Main focus point - Protect the traders from sealing.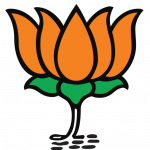 BJP(Meenakshi Lekhi)​
Focus

Gender Equality and Women Rights, Bike Rallies. Was addressed as "an absentee MP" and said that she was never available to the people since she became an MP in 2014. More women should join politics. They should be interested in politics. Giving women ticket for the sake of it is not the right thing to do," Lekhi told PTI in an interview, citing the example of the Trinamool Congress. "The TMC has given tickets to all the actresses as if they only represent the womenfolk and 'normal women' are not worthy of being in politics. This is not women empowerment.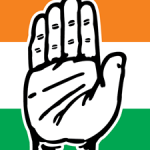 Congress(Ajay Maken)​
Focus

Gave a statement "Delhi Will Become As Bad as UP & Bihar" on demand for Full Statehood. the tax burden on Delhi's residents will increase if it becomes a state. Ajay Maken Wednesday submitted a complaint to the National Human Rights Commission (NHRC), seeking action against erring officials for allegedly "beating up" local scrap dealers during a sealing drive in Mayapuri on April 13.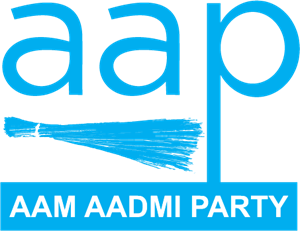 Winning
AAP(Brijesh Goyal)
Focus

Very popular in the Delhi traders' community, 43-year-old Goyal is the National Convenor of the Chamber Of Trade and Industry (CTI) and also Convenor of the AAP Trade Wing (Trade and Industry). AAP inclination of a coalition with Congress led to a negative sentiment amongst the public.
Our Mandate
As per our analysis, people are not happy with BJP's sitting MP Meenakshi Lekhi due to her not doing anything in specific regarding the "sealing" issue. However,

AAP candidate Brijesh Goyal

is a new face among the three, very popular in the Delhi traders' community and has an advantage over Lekhi.
North West Delhi Constituency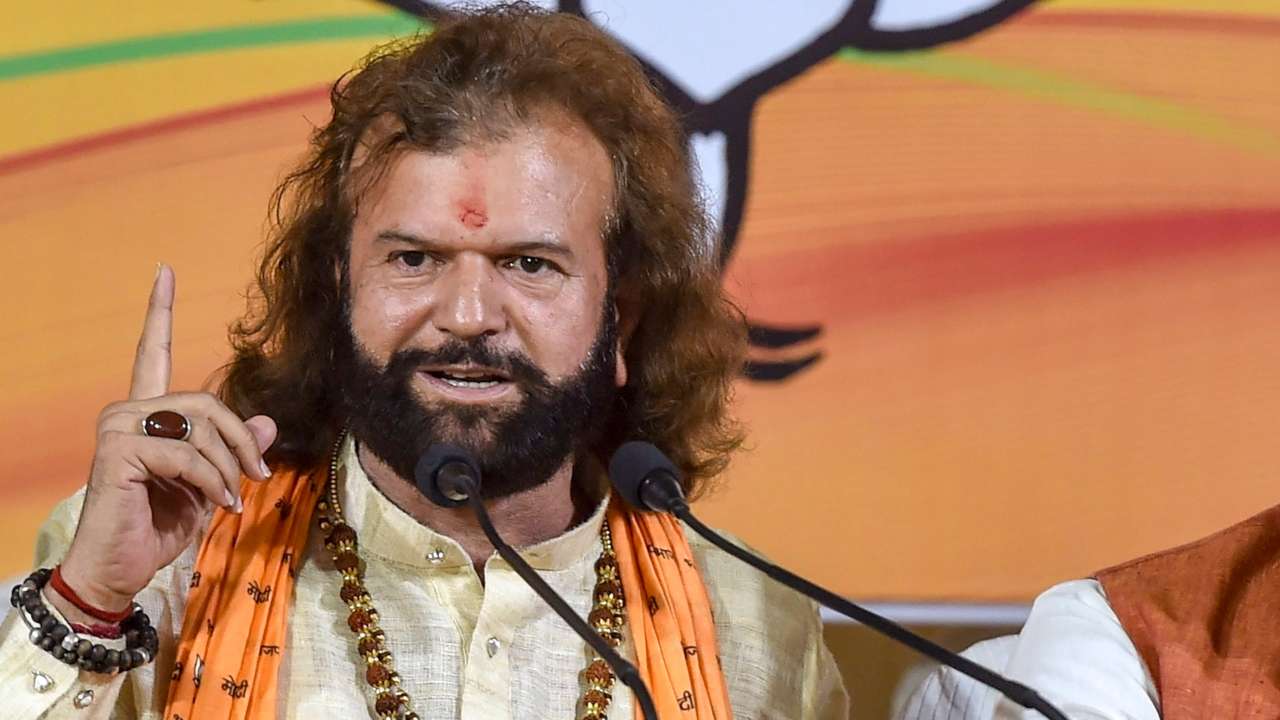 Demographics -Most underdeveloped and neglected areas in Delhi
Main focus point - Basic amenities for rural Delhi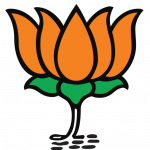 BJP(Hans Raj Hans)
Focus

The Bharatiya Janata Party (BJP) denied ticket to Udit Raj, the sitting MP from North West Delhi, and fielded Hans from the seat. It was widely reported in media that Hans converted to Islam. Islam does not acknowledge any caste system so Hans Raj Hans cannot contest from a seat which is reserved for SC community. "Imported Singer" has a negative sentiment since this is an SC seat. It puts a negative impact on BJP's image that they didn't provide a ticket to someone from that area Focusing on Relations with Pakistan especially after the return of Abhinandan.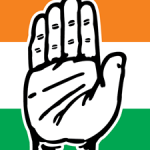 Congress(Rajesh Lilothia)​
Focus

Women Safety. She has also launched an app called Indira Shakti where women can register their number and in need can call the emergency button.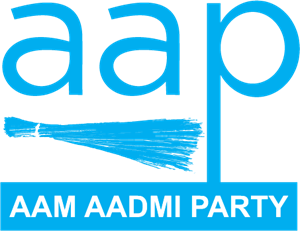 Winning
AAP(Gugan Singh Ranga)
Focus

Access to public amenities, new colleges, universities and also engineering college.
Our Mandate
As per our analysis, BJP candidate for North West Delhi constituency Hans Raj Hans had the most chances of winning, but with all the negative sentiments associated with his name,

AAP's Gugan Singh Ranga

has a clear chance of winning.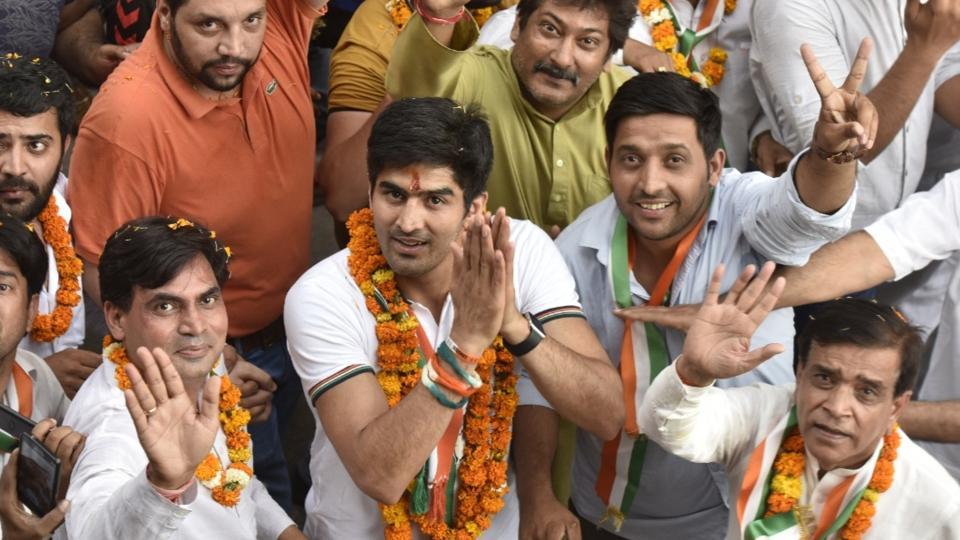 Demographics - South Delhi constituency has a large number of Jat and Gurjar voters. Ramesh Bidhuri is a Gurjar, the Congress has fielded Vijender Singh from the Jat community. Of the 42 villages, 18 are dominated by Jats and 12 by Gujjars. The two communities, combined with Poorvanchalis (migrants from Eastern UP and Bihar), constitute nearly 30 % of the voters in South Delhi. Gujjar-dominated areas include Badarpur, Chhatarpur and Tughlaqabad, while Jats are in good numbers in Deoli, parts of Bijwasan and Sangam Vihar. Here, caste plays a decisive role in how people vote.

Main focus point - Regularisation of unauthorised colonies, water scarcity and bad roads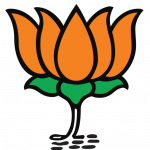 BJP(Ramesh Bidhuri)​
Focus

Calls his opponents outsiders. He has concealed FIR pending against him. Concealment of a criminal case is a serious offence.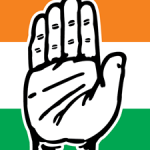 Congress(Vijender Singh)​
Focus

Providing support for athletes to enter into Olympics. Used to be considered as a struggling average joe but now lives in Vasant Kunj.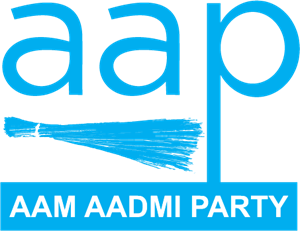 Winning
AAP(Raghav Chadha)
Focus

May seem too sophisticated for this crowd with his stints at Deloitte, Grant & Thornton and his photo with Prince Charles!
Our Mandate
Our analysis says that BJP's sitting MP from South Delhi constituency, Ramesh Bidhuri is not that successful in making a genuine connection with the people in all these years and his position is at stake this time. However, Congress's fresh face Vijender Singh being a youth icon has got the attention of the youths but the elderly ones seem sceptical about him. South Delhi being a foreground of caste-based politics and Ramesh Bidhuri and Vijender Singh both Gujjar and Jat respectively, it will be a game to see. But our analysis says that

AAP's Raghav Chadha

has a clear chances of winning.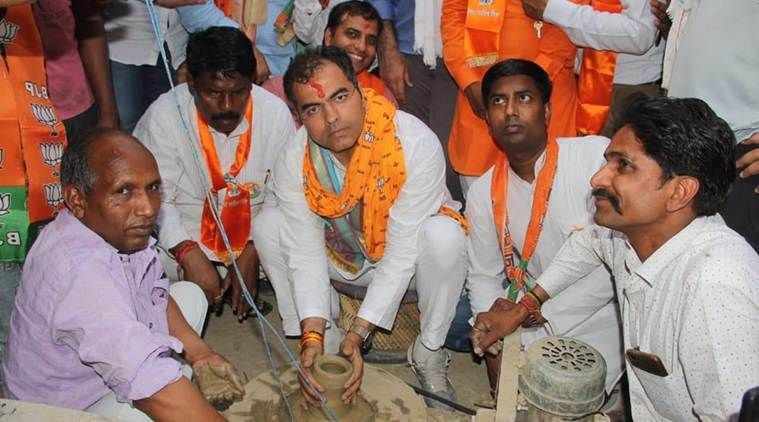 Demographics - Mostly Punjabi and Sikh dominated area. Most affluent and densely populated regions in Delhi. Vast residential and commercial regions of Delhi such as Janakpuri, Tilak Nagar, Punjabi Bagh and Patel Nagar, among others.
Main focus point - DU West Campus, Education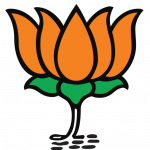 Winning
BJP(Parvesh Singh Verma)
Focus

His father(former Delhi CM) a respected Jat leader from Delhi Dehat. His name still holds a lot of respect in this constituency. Roadshows twice a day. For the elderly, he is the child of the 'son of the soil'.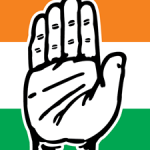 Congress(Mahabal Mishra)​
Focus

Lives in the West Delhi constituency, while candidates of other parties are outsiders. Unlike BJP and AAP, he doesn't believe in massive roadshows or holding rallies for a large number of people. He leaves home at 7 am and return by 1 in the night. He attends 20-30 face-to-face meetings in a day and addresses small gatherings so that he can assure them his support.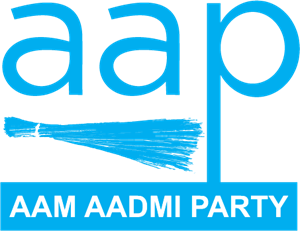 AAP(Balbir Singh Jakhar)
Focus

Making his electoral debut. An Advocate by profession and the President of Dwarka Court Bar Association. Held a roadshow which commenced from Najafgarh and ended at the office of the returning officer in Rajouri Garden, even before filing nomination. Lack of parking space, lack of super speciality hospitals and unauthorised colonies are some of the issues highlighted by Balbir Singh Jakhar of AAP.

Our Mandate
Our analysis says that

BJP's sitting MP from West Delhi constituency, Parvesh Singh Verma

is still the one who is being favoured by the public and has a high chance of winning against AAP's newbie Balbir Singh Jakhar and Congress's former MP Mahabal Mishra.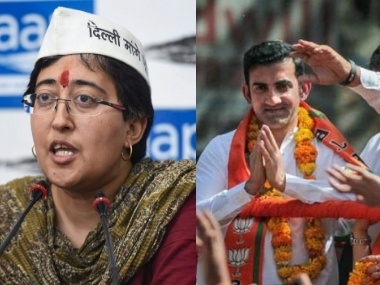 Demographics - Huge Muslim vote bank in Okhla region.

Main focus point - Ghazipur landfill site, giving clean water, solving parking problems and tackling pollution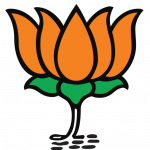 BJP(Gautam Gambhir)​
Focus

BJP facing a lot of backlash for giving tickets to celebrities not qualified to hold office. "India is a politically maturing nation. Celebrities do not make efficient politicians. This BJP is not the same BJP of Atal ji". Sushma Swaraj campaigns for Gautam Gambhir in Delhi.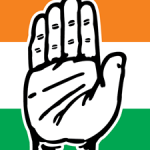 Congress(Arvinder Singh Lovely)​
Focus

Former President of the Delhi Pradesh Congress Committee (Delhi PCC). In 1998, he was elected to the Delhi Legislative Assembly as the youngest MLA. He was again elected in 2003, 2008 & 2013. He has never lost an election, and he won by the largest margin in Delhi in 3 of the 4 elections where he has contested. He has also been the Minister for Urban Development & Revenue, Education, Transport, Tourism, Languages, Gurudwara Election, Local Bodies & Gurudwara Administration in the Sheila Dikshit government of Delhi. Four Term MLA, Gandhi Nagar.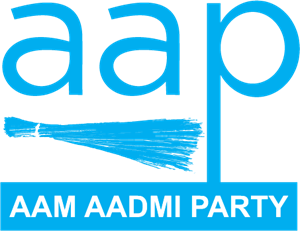 Winning
AAP(Atishi Marlena)
Focus

Atishi has been campaigning in this region for 1 year now as compared to Congress and BJP who announced their candidates last week. Kafeel Khan, Jignesh Mevani campaigns for Atishi, along with popular actress Swara Bhaskar.
Our Mandate
Our analysis says that

AAP's Atishi Marlena

has gathered a lot of support and love from the people as she has been campaigning for a year now and is more likely to win this time. However, it can be seen that she will get a good fight from Congress's former minister Arvinder Singh Lovely. BJP's Gautam Gambhir being a popular but new face for the people is more likely to struggle among the thre

e.
Chandni Chowk Constituency
Demographics - This is a big commercial centre, where traders suffered due to poor implementation of Goods and Services Tax, sealing and demonetisation. The numbers of trader communities are high and they are facing huge problem due to sealing. On the other hand, the youth has become disoriented due to lack of job which is giving rise to antisocial activities.

Main focus point - Jobs, Parking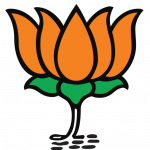 Winning
BJP(Harsh Vardhan)
Focus

Party facing some backlash on politicising the issue of Balakot strike. In fact, in 2014 Lok Sabha polls, he got more votes in two of the Muslim-dominated Assembly segments in the Chandni Chowk Lok Sabha seat.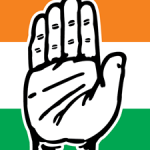 Congress(Jai Prakash Agarwal)​
Focus

Congress veteran Jai Prakash Agarwal started his political journey as a municipal councillor and was elevated to the Lok Sabha from Chandni Chowk in 1984. His party's manifesto for this year elections for Chandni Chowk constituency includes free and compulsory education from class 1 to 12 in all government schools. Every school will be provided better infrastructure and an adequate number of teachers.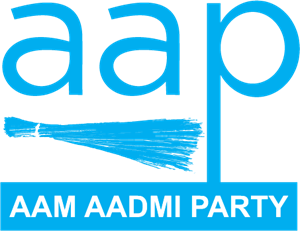 AAP(Pankaj Gupta)
Focus

Better roads and sanitation, improved water quality and supply, drains that are at least covered. Employment, education, housing for all, women safety and cleanliness; all these issues have a solution only through the door of statehood. AAP is fighting for the cause as they believe it is the solution. People have seen the work done by the Delhi government in schools, hospitals, roads and sewage. They understand that if we could do so much work with 67 MLAs, then seven more MPs would do wonders.

Our Mandate
Taking into account 2014's number of vote share and our present-day analysis, it seems quite clear that

BJP's sitting MP and Union minister Dr Harsh Vardhan

is going to win it this time too. AAP's Pankaj Gupta is trying his best to gain some grounds but with Dr Harsh Vardhan placed against him, it will be a tough fight for him.
FINAL VERDICT
As per our detailed analysis, leaving aside Chandni Chowk(Dr Harsh Vardhan-BJP), West Delhi(Pravesh Verma-BJP) and North East Delhi (Manoj Tiwari-BJP), all the other constituencies are clearly going to AAP or even it might be a clean sweep by AAP!! After all, the power is to you and you have taken the call.