50 Most Popular Hashtags on Instagram
Hashtags help social media platforms categorize your content so that your content can be easily discovered by your target audience. The more visibility you get, the more likely you are to get followers and increase your community. Therefore, it's extremely important that you use hashtags strategically. Even if your content is extremely thought out, by using random hashtags it may not become discoverable to the right audience and hence will not product any effect on your business in long term. These hashtags also play a very important role in inbound marketing by making sure that the audience is driven to your page when they discover your content using a hashtags which is relevant to their need.
Instagram now allows its users to follow hashtags as well which means that you can engage not only with your followers but also with audience following a certain hashtag on instagram as well. By designing useful and relevant for such audience increases the likelihood of this audience engaging with you because this is exactly what they are looking for.
You can make your content discoverable by using hashtags in 2 particular ways
1. Use Trending Hashtags
You can take part in the trending conversations happening on social media and using those trending hashtags to make yourself visible among new audience who is talking about the same topics.
2. Use Niche Hashtags
Using popular and general hashtags has a drawback. Since a lot of people are using that those hashtags, your post may not become discoverable to your target audience. For example, #halloween is a very wide hashtags containing a lot of categories under it, so if you want to increase your awareness among halloween candy, it would be better for you to use #halloweencandy hashtag.
The list of most commonly used hashtags keeps changing as people regularly post more and more content online. Here is a list of 50 most frequently used hashtags on social media in the last 3 months.
love
instagood
travel
photooftheday
photography
fitness
art
fashion
motivation
nature
summer
beautiful
picoftheday
travelgram
travelblogger
wanderlust
Repost
instadaily
instagram
happy
fitfam
life
Foodie
food
inspiration
foodporn
health
follow
workout
explore
adventure
sunset
MUSIC
yoga
fit
instafood
travelphotography
success
fun
liketkit
style
smile
beauty
FitnessMotivation
instapic
gym
beach
bodybuilding
happiness
Entrepreneur
Even though Instagram allows 30 hashtags per post, it doesn't necessarily means you fill it up with hashtags which may or may not be relevant to your category or audience. Find out the magic number that works for you.
The graph below will give you an idea on how many hashtags are on an average used in social media posts.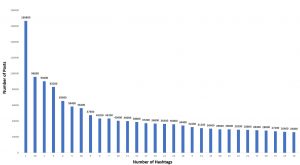 Some points to keep in mind while using hashtags on social media
Keep track of the seasonal hashtags like – summer, winter, holiday hashtags etc.
Instagram penalizes people who consistently use same set of hashtags in every post. So make sure your hashtags are relevant to the content you are posting online.
Use long tail hashtags to target a specific audience and short tail hashtags to reach a mass audience
Keep track of latest trending hashtags and take advantage of the ones relevant to your content
Use the Most Popular Instagram Hashtags strategically
Use a mix of your industry hashtags and your brand specific hashtags
Analyze which hashtags and number of hashtags works for your content
Analyze the hashtags your competitors and audience are using frequently
Use specific hashtags for your campaign to make campaign analysis easier